I know that this was only a four day week, but it really felt like a six day week! It just

creeped

by, so I am

soooooo

happy that today is Friday! Woo

Hoo

! And you know what that means....
Mama M.'s Five Question Friday!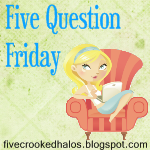 1. If you could go back to college would you change your major? Or, if you were to go to college right now...what major would you choose?
That is a really good question. I originally started school with the intention to be a teacher. Somewhere along the line I

changed

my mind, but it was a little late in the game to completely change my major without having to start over.

Sooo

, I have a degree in Child Development. Which makes no sense with the

career

path that I have chosen. I wouldn't change my major just for the

pure

fact that I

LOVE

kids and learning about why they do what they do, but if I could enroll in school today and get another degree I would probably go with Hospitality or Business.

2. What do you love most about your home?


Ummm

...considering that I am selling mine right now and I don't really

considerate

to be "mine" anymore. In the three years that we spent together I guess I

would

have to say that I love the garden tub in the Master

Bathroom

.

3. What types of books do you like to read (if you like to read at all)?

I LOVE to read when I find the time. I will really read anything. I love all Nicholas Sparks books and of course my favorite is the Twilight series. Right

now

I am reading Water for

Elephants

and it's really good.
4. What is the grossest thing you've ever eaten?

I will try anything at least once. I have tried snails, it was

ok

, not terribly gross but probably not something that I would order again.
5. If you HAD to be a character on a TV show, whom would you be?
Oh my, you know how addicted to TV I am. This is a good one, do I have to pick just one? Out of all of the shows that I watch I would probably be Bree or Gabby on

Desperate

Housewives.
That's it for the questions, so see ya again with another 5 next Friday!
Love All,